SEO: 8 tips for finding keywords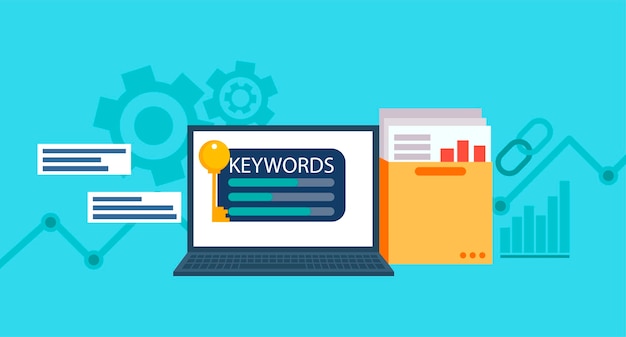 A crucial step in an SEO strategy, keyword research facilitates the choice of a reliable semantic core for the content of the pages of the website. These keywords will link what people are looking for and what your site has to offer them.
Whatever your field of activity, you will need the right keywords that will propel your website to the first page of search results on Google . Did you know that in 95% of cases, Internet users only look at the first page of the results of their queries, with a preference for the first 3 results provided? It is therefore in your interest to find keywords that represent your image and your business, which summarize what target prospects are looking for on your site, and which are relevant enough so that you can stand out from the competition.
These keywords will then be used to guide the writing of quality content published on the pages of your website. Some tips to help you in this quest for the perfect keywords to win the favor of Google and Internet users.
1. Understand how Google works to find the right keywords
Before focusing on keyword research, we must review the way search engines work, including Google, the market leader. To do this, you will put yourself in the shoes of an Internet user who will type words on the search bar to obtain results. It is these terms that are considered as keywords by Google robots that will list the websites that use them.
In order for your keywords to be reliable, you need to make them easy to use and that people can use them to be redirected to your site. But above all, the keywords will correspond to the themes dealt with on your site, the products you are selling and the services you offer.
2. Define your keywords internally
The choice of keywords depends mainly on the products or services you offer and your targets. So, if, for example, you sell baby products, you have to put yourself in the shoes of the parents who are going to do the research on the internet. This will be an opportunity to do in-depth research using synonyms, a lexical field revolving around babies and the childcare products or articles they will need. This first update is necessary, because it will help you correct the architecture of your website and determine the hierarchy of keywords that you have taken care to test to know their potential.
The keywords will evolve according to the expectations of your prospects and their purchasing habits. To find the perfect expressions, you can also use many themes that revolve around the products or services you offer, to then segment your keywords. It will also be an opportunity to get inspired by what your employees offer who are in direct contact with your prospects and your customers, and who know very well what is expected of your company or your website.
3. Find keywords with "high potential"
To win the favor of Google, a website must publish content of optimal quality, containing mainly keywords with "high potential". These are the keywords that will attract quality traffic to a company's blog to bring it new potential customers, or generate purchases on e-commerce sites.
To find the right keywords, you need to rely on the search intentions of Internet users who increasingly use long-tail keywords, including a 3-word string or even a full sentence.
To identify keywords with high potential, for example use Google's keyword planning tool, be inspired by its keyword suggestion, and make sure to always specify your choices of sequence of words.
What if you added a location to your keywords, for example indicating the location of your offices or physical stores? All you have to do is insert them in a completely natural way into your content so that search engines can spot them as soon as a user makes the request on the search bar.
4. Do a competitive study to be inspired by their keywords
Because you are not the only one who wants to make a name for yourself in your field, you absolutely must do a competitive study. This step of your web marketing strategy will be used to observe what your direct or indirect competitors are doing to get to position themselves well.
So, do not hesitate to view the source code of their pages to have an overview of the keywords used in the title, meta description and titles tags (H1, H2, H3 tags). The most important words will also be put in bold using the "strong" tag, which is useful for better identifying them.
Also, do a "press" watch by detecting the keywords and expressions that correspond to you and that you will be able to use to write relevant articles with high added value that you will then publish on your site.
Another possible approach consists in participating in forums on the subjects that interest you in order to have a precise idea of ​​the problems dealt with and the solutions expected by Internet users in order to derive keywords from them.
5. Find keywords through search engine services and features
To help Internet users to formulate their requests, search engines and web services such as Amazon or YouTube have set up an auto-completion system. These are the "suggested queries" that appear below the search bar when you type in your keywords. This tool is useful for finding long tail keywords.
There is also "related searches", a feature available on the majority of search engines that you will be able to use for inspiration. Also note that Google offers various tools to guide you on the formulation of your keywords. This is the case with Google Trends which lists search trends, with chronological and localized results.
6. Use free Google tools
Want to do an in-depth search for your keywords? Google provides several tools that you can use for free. This is the case with Google Adwords, the tool that allows you to be inspired by your main keyword to find new ones thanks to its suggestions. To activate it, all you have to do is go to the "Tools" tab, then click on "Keyword planning tool" before validating in order to have data concerning the volume of keyword traffic.
7. Be inspired by the results of audience measurement services
Anxious to know the behavior of Internet users, search engines have created web analytics tools. These are for example the Google Search Console, Piwik and Bing Webmaster for the best known. These services will measure the audiences on your site and the traffic generated by the keywords. Among the data available, you have among other things the number of views on your site, the number of clicks generated and the positioning of the keyword.
8. Make use of keyword generating software and SEO expert platforms
In order for you to find the right keywords, the internet is full of interesting software. Starting with Yooda Insight which suggests keywords with their lexical fields. If the free version of the software already shows you the rate of results on your keywords, their position and their exploitation by the competition, a subscription will give you access to more advanced results.
There is also SEMrush, the reference tool to work on the semantic field of a keyword, by indicating those that will allow you to improve your natural referencing, because they obtained such a number of clicks, that they are trend or have generated significant volume. Among the features of SEMrush, you also have SEO audit, keyword tracking, SEA campaign tracking, etc.
For long-tail keywords, FREMYTOOLS is free and you have the option of choosing the country you are interested in or the type of media to use, whether it's news, images, or websites.
There is also Keyword Tool Dominator which informs you about long-tail keywords and the terms that you will be able to associate with them, and this, according to the results obtained on Google, YouTube or Amazon.